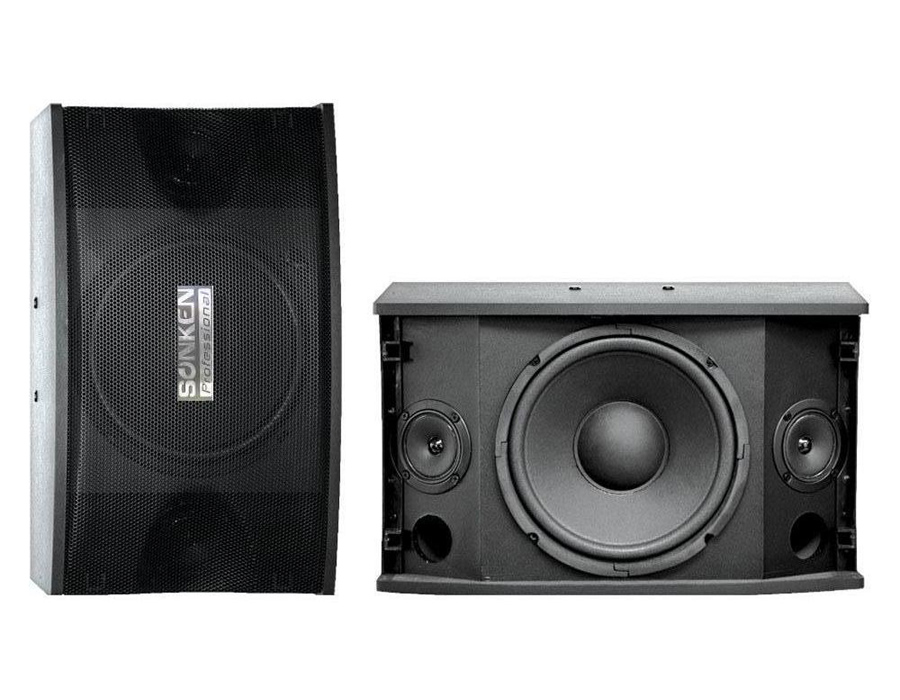 CS-450B  is a traditionally designed karaoke speaker.

It is one of our first generation speakers with a 10 inch- woofer.

It is a very popular speaker for commercial KTVs or Karaoke clubs and boxes.

CS-450B is greatly reliable for its sound quality and stability. It is considerably very light and easier to install on standard floor stands.
Recommended Usage: Main speaker (maximum 500 sq ft.)
Type: 2-Way full-range (floor-stand or wall/ceiling mounted)
Woofers: Single 10 inches
Tweeters: Dual 3 inches
Single Bass Reflex
Gold-Plated Brass Inputs (double MDP Banana Premium type)
Frequency Response: 40 Hz~ 20 kHz
Sensitivity: 93 db
Input Power Maximum: 300 Watts
Nominal Impedance: 8 ohm
Unit Dimensions (W x H x D): 19.75 inches x 11.5 inches x 11 inches
Unit Weight: 22.6 lbs / 10.3 kg (each)
Package Dimensions (1 pair per box): 26 inches x 23 inches x 14.5 inches